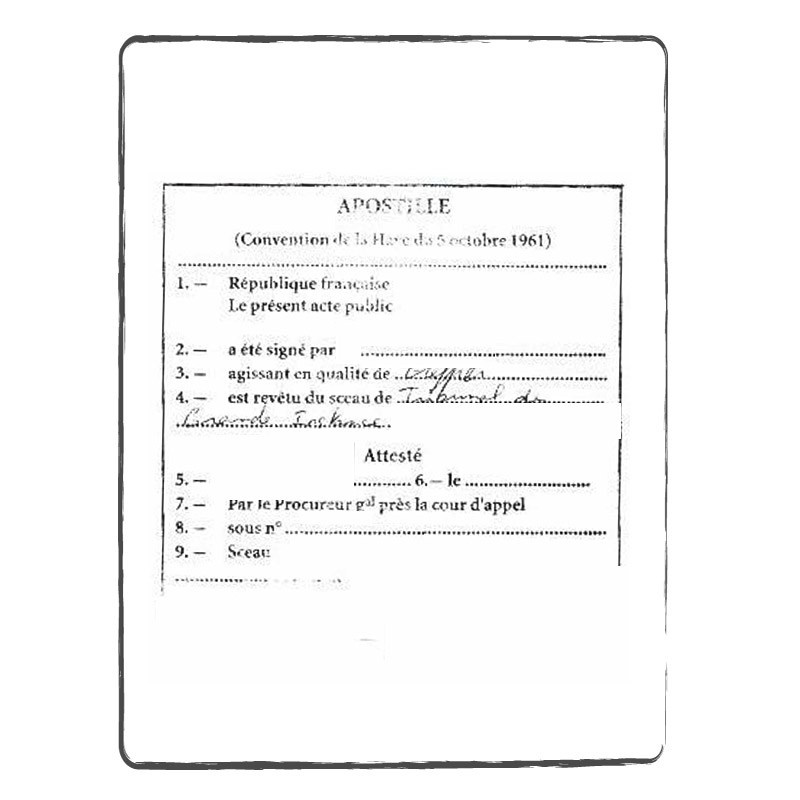  

Paga de manera secura

Validez de nuestras traducciones juradas en el extranjero

Plazos y modalidades de entrega
Los precios varian según la combinación de idiomas
Apostilla - traducción oficial y jurada
Impuestos incluidos /página
Importante: Traducción oficial de tu apostilla realizada por un traductor jurado.
Generalmente, la apostilla acompaña un certificado oficial cuya traducción deberás encargar junto con la de la apostilla.
Podrás presentar la traducción jurada de tu apostilla ante las administraciones en España, Francia y en el extranjero.
Los precios son por página.
Carga de tus documentos: Puedes cargar tus documentos en formato PDF o JPEG en el carrito antes de hacer clic en "tramitar pedido". Si dudes sobre la correcta carga de los documentos, puedes enviarnos los documentos por correo electrónico.
¿No encuentras tu documento? Si no encuentras el producto adecuado para tu documento, puedes enviarnos una solicitud de presupuesto en cualquier momento a través de nuestro formulario en línea o por correo electrónico .Por favor, envíanos los documentos e indica el idioma de la traducción.
Impuestos incluidos /página
Nuestro trabajo siempre incluye los servicios siguientes:
traducción de toda la información del documento respetando el formato (en la medida de lo posible)
traducción conforme a las normas en vigor y relectura comparativa
impresión y certificación (fórmula al final de la traducción junto con el sello y la firma del traductor oficial)
recibirás la traducción por correo electrónico en formato PDF y luego por carta ordinaria (incluido en la tarifa)..
Nuestras traducciones son aceptadas y reconocidas por las administraciones. Recibirás una traducción profesional realizada por uno de nuestros traductores jurados:
acreditado por el Ministerio de Asuntos Exteriores y de Cooperación de España para las traducciones al español.
acreditado por la Corte de Apelaciones (Cour d'Appel) en Francia, para las traducciones al francés, al inglés, al italiano y al neerlandés
acreditado por el Tribunal Regional (Landgericht) en Alemania para las traducciones al alemán
Pedido en línea de traducciones juradas y oficiales en los siguientes idiomas: inglés - francés - alemán - español - holandés - italiano - chino - polaco. Para cualquier otro idioma, puedes contactarnos por correo electrónico o por teléfono (nuestros datos de contacto están en la cabecera).
Apostille translation

Its my second time I have benefitted from ACS\'s services. I like their support system. For example I made a mistake with my order, but soon I was contacted by someone and it was sorted out. I received the translated document on time, which the stamp of certified translator.
Parfait

Traduction rapide et de qualité.
Traduction apostille

Très bien
Impeccable

Travail soigné et rapide, contact facile avec les interlocuteurs : je referai appel à leurs services sans hésitation
Traduction Apostille - traduction assermentée & ce

Vraiment satisfait par la rapidité et la qualité
Rapide et efficace

Je remercie ACS traduction pour leur travail, ils m'ont énormément aidé à avoir mes documents à temps pour une Inscription à l'université. Je recommande leurs services !
Apostille

Très honnête de votre part pas eu besoin et vous m avez téléphoner pour me le dire ainsi que le remboursement et des renseignements qui m ont bien été utiles. Merci beaucoup
Traduction avis d'imposition

No fuss and fast

Excellent and professional
Apostille

100% satisfied
Traduction Apostille

Pareil pour la traduction Apostille, mise en page comme l\'original, tout très satisfaisant.
Rapide et efficace !

Lla commande a été rapide et efficace. Je recommande.
travail sérieux, service rapide et efficace!

rien à redire, je recommande
Très bien

Très satisfait de la traduction

Paga de manera secura

Validez de nuestras traducciones juradas en el extranjero

Plazos y modalidades de entrega
Recibe rápidamente la traducción jurada por email y por correo.
Recibe tu traducción jurada por email en sólo 2 dís hábiles*.
---
¿No encuentras el tipo de tu documento entre los que proponemos?
¿No ves la combinación de idiomas de tu traducción jurada en nuestra tienda en línea?
Pide un presupuesto personalizado
Te enviaremos un presupuesto gratis y personalizado
en menos de 60 minutos

¡Aviso importante!
Tenga en cuenta que el pedido sólo se procesará después de recibir la ortografía latina de los nombres propios del documento (en la etapa 4 del pedido o por correo electrónico).