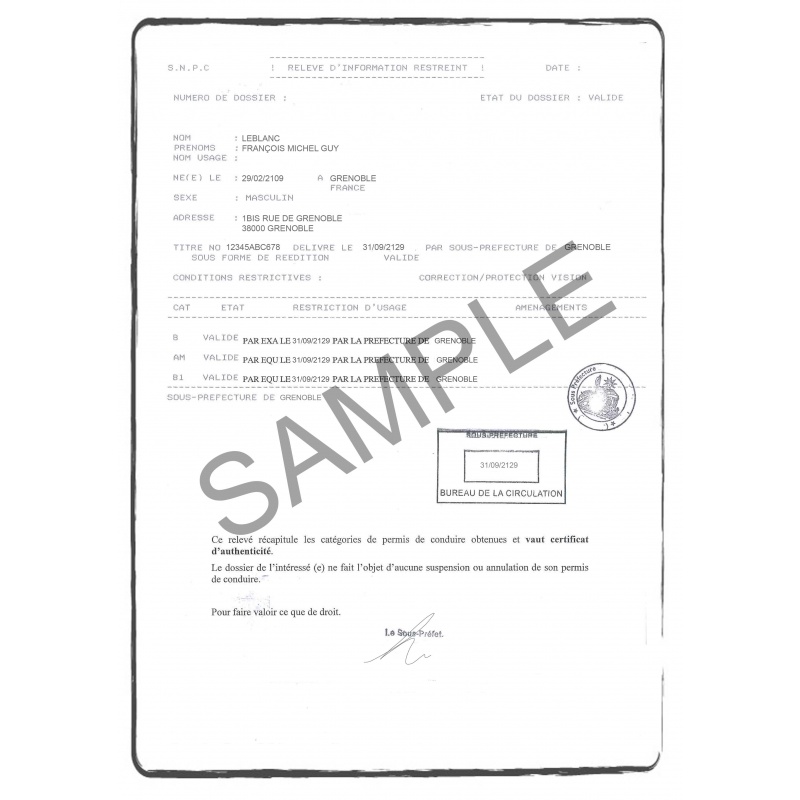  

Paga de manera secura

Validez de nuestras traducciones juradas en el extranjero

Plazos y modalidades de entrega
Los precios varian según la combinación de idiomas
Certificade de autenticidad de un permiso de conducir - traducción oficial y jurada
Impuestos incluidos /página
Traducción oficial de tu certificado de autenticidad de permiso de conducir realizada por un traductor jurado.
Podrás presentar la traducción jurada de tu certificado de siniestralidad ante las administraciones en España, Francia y en el extranjero.
Los precios son por página estándar de 250 palabras.
Carga de tus documentos: Puedes cargar tus documentos en formato PDF o JPEG en el carrito antes de hacer clic en "tramitar pedido". Si dudes sobre la correcta carga de los documentos, puedes enviarnos los documentos por correo electrónico.
¿No encuentras tu documento? Si no encuentras el producto adecuado para tu documento, puedes enviarnos una solicitud de presupuesto en cualquier momento a través de nuestro formulario en línea o por correo electrónico .Por favor, envíanos los documentos e indica el idioma de la traducción.
Impuestos incluidos /página
Nuestro trabajo siempre incluye los servicios siguientes:
traducción de toda la información del documento respetando el formato (en la medida de lo posible)
traducción conforme a las normas en vigor y relectura comparativa
impresión y certificación (fórmula al final de la traducción junto con el sello y la firma del traductor oficial)
recibirás la traducción por correo electrónico en formato PDF y luego por carta ordinaria (incluido en la tarifa)..
Nuestras traducciones son aceptadas y reconocidas por las administraciones. Recibirás una traducción profesional realizada por uno de nuestros traductores jurados:
acreditado por el Ministerio de Asuntos Exteriores y de Cooperación de España para las traducciones al español.
acreditado por la Corte de Apelaciones (Cour d'Appel) en Francia, para las traducciones al francés, al inglés, al italiano y al neerlandés
acreditado por el Tribunal Regional (Landgericht) en Alemania para las traducciones al alemán
Pedido en línea de traducciones juradas y oficiales en los siguientes idiomas: inglés - francés - alemán - español - holandés - italiano - chino - polaco. Para cualquier otro idioma, puedes contactarnos por correo electrónico o por teléfono (nuestros datos de contacto están en la cabecera).
Quick and easy. Perfect, did what I needed it to

Thanks, I\'m really happy with the fast turnaround and good communication. Can\'t fault the service, I\'ll use ACS without hesitation whenever I have anything that needs translating in future.
English to French Translation

Professional and timely service. Great communication. Would highly recommend.
Rapide et de Qualité!

Rien a redire, tout était clair, efficace, dans les temps
Easy and on time

I order on a Sunday evening received my documents on time. Very pleased with the service.
Mon avis

Les traductions de mes documents ont été acceptées par l\'institution gouvernamentale. Merci.
Attestation de droits à conduire anglais-français

Deuxième expérience aussi bien que la première. Service rapide, efficace et sympathique. Recommandé.
Tres bon travail

Absolument parfait, du début à la fin. Très bonne communication, beau travail, rapidement livré, et soigneusement présenté. Bravo et merci a toute l'équipe ACS Traduction !
Fast and efficient, and at a reasonable cost.

After 5 months of new and changing demands from ANTS for various documents (buying a house in France was much easier and quicker than applying for a French driving licence in exchange for my UK one...), I received a request for a letter from the DVLA showing my entitlements to drive, together with a certified translation into French of the same. Consequently, I anticipated a further long delay in my application, but this was not the case: DVLA supplied the letter within a week and ACS Traduction provided a translation - which was accepted by ANTS - within four days. I\'m now finally looking forward to receiving my French driving licence. Thank you ACS Traduction!
Good

Was quick

Paga de manera secura

Validez de nuestras traducciones juradas en el extranjero

Plazos y modalidades de entrega
Recibe rápidamente la traducción jurada por email y por correo.
Recibe tu traducción jurada por email en sólo 2 dís hábiles*.
---
¿No encuentras el tipo de tu documento entre los que proponemos?
¿No ves la combinación de idiomas de tu traducción jurada en nuestra tienda en línea?
Pide un presupuesto personalizado
Te enviaremos un presupuesto gratis y personalizado
en menos de 60 minutos

¡Aviso importante!
Tenga en cuenta que el pedido sólo se procesará después de recibir la ortografía latina de los nombres propios del documento (en la etapa 4 del pedido o por correo electrónico).